Our Guide to Your Clothing Production Journey
---
Step 1 - Brand & Brief Spec Sheet
The first thing you need is a tech pack with as much detail as possible. What's a tech pack? A tech pack is a blueprint created by a designer. It contains all the components and instructions required for a manufacturer to turn your design into a finished product. The Tech pack should include all the following details. Materials, gradings, seams, colourways, measurements, trim, labels etc.
Step 2 - Quotation
After you have sent us your tech pack, Then we will organize your quote! "We charge for quotations because we need to check everything in detail with our tailors, which takes time and resources!
Step 3 - Administration
After you agree to the quotation we provide, we will send you an invoice you need to pay. After we receive payment, we will start the sample making process.
Step 4 - Sourcing
We will help you to pick fabrics that suit your designs. We have sustainable cotton, rayon, linen, Lycra always stocked. And what we don't have as ready stocked we can order.
Step 5 - Sample
We will help you create a sample piece, to ensure we get everything right before we move to the production phase.
Step 6 - Prototype / Fitting Sample & Corrections
After you have received the sample now it's time to try it on, please use different models, test the fabrics and make sure you happy also with all the sizes & materials.
Step 7 - Production
Once the samples have been agreed, we then move to the bulk production phase. Depending on the size of your order, bulk production usually takes 4-8 weeks.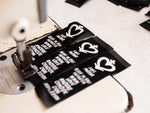 Step 8 - Tag & Label
When production is complete, we assist with Label and packaging design and creation. You receive your product ready to sell on the shelves. Tag and Label design should be finalized as part of the Tech Pack.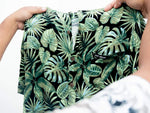 Step 9 - Quality Control & Packaging
Love Anchor has a selection of packaging that you can easily select and attach to your logo. Also available packaging & branding with sustainable Handmade, Washable, Reusable, Simply wash and air dry.
Step 10 - Shipping
Once we finish the sample, we will send it to you, we use JNE for domestic shipping and DHL EXPRESS for International Shipping. the sample should be with you within 3-5 days of work.
Step 11 - Feedback Re-Ordering
Please give us your comments about our services and tell us what you need differently next time. Also, talk to us about your own business goals, and let's figure out what can be done to help you grow your business.