Love Anchor Photography Studio
Love Anchor Studio is a professional photography studio in the heart of Canggu. We provide in-house industry-standard studio lights and equipment for your professional photoshoots.
Fashion Studio Pricing:
Hourly Rate
450.000 IDR (Minimum Booking 2 Hour)
Half-Day
Full-Day
Equipment that is included in your booking at Love Anchor Photography Studio
2x Softbox Godox
1x Trigger Godox
1x White Paper Background
1x Reflector
1x Tripod for Camera
1x Cable Connector
---
We also offer the following photography services. Please contact us as prices may vary depending on your requirements:
Additional photography & videography equipment hire
Fashion models
Makeup artists
Fashion stylists
---
---
Studio Photography
Please contact us with your brief. We offer a vast network of professional photographers, graphic designers, videographers when required. Please ask us about our extra services.
Lifestyle Photography
Love Anchor has an extensive network within the photography and videography world of Indonesia. Please contact us with your brief, and we can get you a price. Our Services range from location hunts, drone work, working permit acquisition, underwater, and helicopter photography.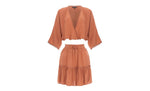 360-Degree Ghost Mannequin Photography
We are experts at ghost mannequin photography. Invisible mannequin photography lends your product's shape without associating them with a particular age, race, or gender. This state-of-the-art method is favored by large eCommerce stores because it allows the showcasing of apparel without the use of real-life models is both time and cost-effective.